Algarve Horse Riding the best place for your riding holiday!!!
by Linda
(Portugal)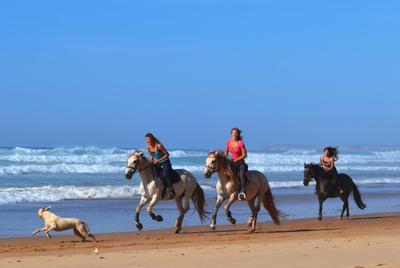 Horse Riding Algarve: www.algarvehorseriding.com is situated in the beautiful natural park of Costa Vicentina, on the western coast of the Algarve.
With excellent temperature all year round, is it the perfect location for a horseback riding holiday in Portugal.
Join us for a relaxing beach ride on the beautiful west coast and through pristine natural park, visit mountain lookouts with breathtaking views, experience a day like no other!
A variety of horse adventures await you;
Experienced riders will not be disappointed; we have athletic, fit, high quality horses. The rides will be exciting but safe. We also can cater beginners and less experienced riders with our well behaved horses and competent guiding. You will be be cared for and have a great ride.
Pony rides are always available for youngsters

Join in and write your own page! It's easy to do. How? Simply click here to return to Horse Riding Reviews.