Port Wine
One of the best and oldest wines in the world

History
Port Wine is one of the oldest wines in the world. In Portuguese Douro region there is a tradition of wine making with centuries, but it was in the 17th century that wine production had an important development.
In this period, in 1703, Portugal and England made a commercial agreement, the Treaty of Methuen, in which Portugal would sell its wine in exchange for the importing woollen goods. Because at that time the distances were much longer than today, to prevent that wine deterioration it was added to it brandy in order to stop the fermentation. When the wine reached England they noticed that the wine was stronger and sweeter and much appreciated.
As a consequence of this, the process was improved and in 1756 the Port Wine brand was created, with the creation of a marked region in Douro. In this region around Douro River, near Regua and Pinhão are settled the Quintas and Estates where the production is made.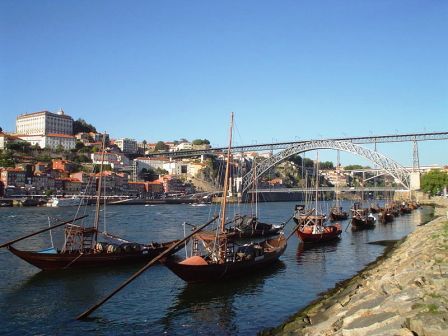 This Wine started to be exported from Portugal to England by some English Family Companies that still exists today, which explains why there are so many English Branded Port Wines. 

Wine Making

The process of making port_wine has several phases from the grape to the bottle.
Dependending on the types of grapes and the aging part of the process, several types of this wine can be produced, white, ruby, tawny, reserva, etc.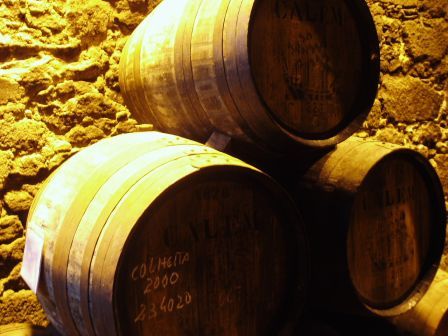 The transportation of Wine from the main productions centers to Porto or Gaia for storage, were traditionally made with Rabelo boats.
There are very interesting organised visits where you can participate in the wine making process, collecting grapes, treading grapes, wine tasting, boat trips and more.
This is a very beautiful region with very good wine and food where the tradition is everywhere. It is a visit you should not miss.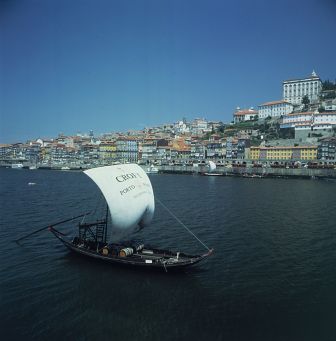 Port Wines

There are several types/styles of these Wines which varies in taste, color and even price. Here is a list with the main characteristics to help you to understand all the variety.
---
Aged Tawny


- Blended from top quality Wines
- Aged in oak wood casks
- The older the better
- More expensive
---
Not Aged Tawny

- Not aged enough in oak wood casks
- Red or White
- Lower price
---
Vintage

- Best Wine
- Made from wines of single year from best vineyards
- Blended and Bottled after 2 years of wood.
- Mature very long time in bottle
---
LBV - Late Bottled Vintage


- Wine of Single Year
- Bottled between 4 and 6 years after harvest
- Filtered or not filtered (need decanting)
---
Ruby
- Deep red should be full of lively fruit flavour
- Aged 2 or 3 years in wood or not
- Less complex and expensive than vintage or LBV
---
White
- Made from white grapes
- Sweet or not sweet
- To be served chilled as an aperitif
- Less alcohol
---
 Port Wine Storage

If you have or plan to have several bottles of Port you must take some precautions in order to maintain the wine in the best conditions. Depending on the types of wine you have different methods to keep your best wine. Check here some advices for the Port storage. 

Port Ratings

There are many brands and types of Port and some times is a little difficult to choose a good one. But you can choose from a list of wines suggested by a wine specialist. Check the best wines you can have. 

Port Glasses

For tasting Wine, in this case Port, it is important to do it in a glass made specifically for this Wine. That way you will feel completely the aromas of it. Here are the best known glasses for tasting this Wine. 

Serving Port Wine

Depending on the type of wine, tawny, white, ruby, you can serve it with different types of food. Some are perfect combinations and you can check which food works best with which type of wine. 

Brands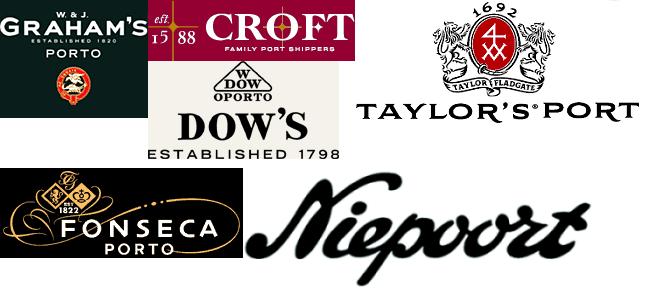 And For You What Is The Thing You Like The Most In Port Wine?
Do You Have A Great Story About Port Wine? Share it!