Algarve Water Parks

A different day in your holidays
Algarve Water Parks Resorts are the perfect place for you to go with your family, specially if you have young children. In Algarve you have several water parks where you can spend a full day enjoying the slides, amusements, presentations, with all the facilities you need including restaurants and car parking areas.

The children will love the slides in the summer season, but you, for sure, will love it too and it is an opportunity to have a different experience in your holidays.

If you are looking for a day with the excitement and refreshing at the same time, you have that in a Water Parkers. There are several Water Parks in Algarve from which you can choose.
Aquashow Park
Probably the biggest Water Park in Algarve, it has several slides of different sizes and speed. It has several swimming pools for the children, a big pool with waves and roller coast. This Water Park doesn't have only water facilities. It also have amusements and exhibitions and a museum...check more
Aqualand Park
Aqualand Water Park is located near Albufeira in Alcantarilha. The Park has many attractions for you and your family to have unforgettable happy moments. You have also a few scary slides if you like these kind of sensations. Is it easily accessible by the EN125 road or the A22 Motorway...check more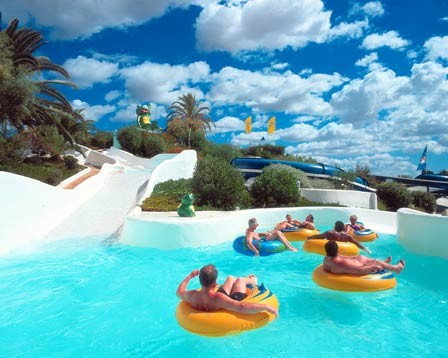 Slide & Splash
Slide & Splash is located near Estombar and Portimão. It has many water attractions but also shows with birds, like hawks and parrots, and also a show with several reptile species. Everything you will need for a pleasant day with your family. It is accessible by the EN125 and A22 Motorway. Check more...
Water Parks Locations
The Water Parks are located mainly in Center Algarve. Check on the map the location of the Parks.
View
Algarve Water Parks
in a larger map
---