Palmares Golf
Golf Course Description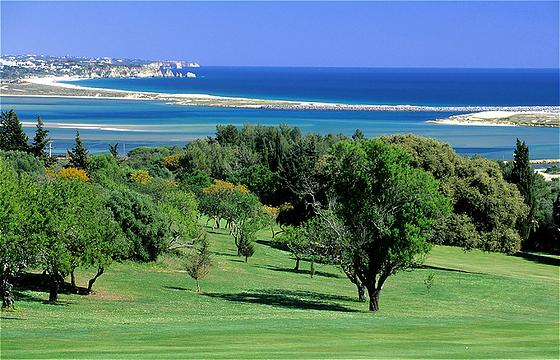 Palmares is another somewhat forgotten golf course in Portugal and we cannot understand why this is so. The course location could not be better as far as landscape is concerned. Lagos bay can be seen from all the holes and from the clubhouse. Lagos, a beautiful Algarve town, has several streets reserved for pedestrians, many cultural sites to visit, good restaurants with excellent fish, cooked in the fine Portuguese way. It makes Palmares a place not to be missed. The connoisseurs do not miss it, whenever they go to the Algarve.

Frank Pennink, the English architect who had designed Vilamoura l and 2 and Aroeira, made an innovating layout. He designed a hybrid course, with five holes near the seaside - a links - and the others on the hillside, surrounded by almond and carob-trees. In the links area, the best hole is the 5th, a 550-metre par 5, one of the longest in Portugal and where it seems that one never arrives at the green. The 6th, a par 4 dogleg to the right, makes one believe that the green is easily reachable with a good drive and it very often leads to a lot of cursing.

The l2th hole, a 400-metre par 4 is another excellent hole, inviting long hitters to reach the green in two strokes. Further on, the short and very scenic par-5 l7th, with Lagos bay in the background, and the l8th an uphill par 4 with a split level green protected by a large bunker on the left, are two good finishing holes.

[In O Golfe em Portugal - Fernando Nunes Pedro - Texto Editora-Andersen Consulting] 
Golf Course Ratings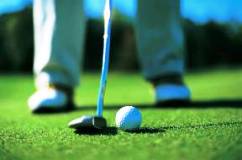 Facilities

This golf course facilities include:

Driving Range
Putting Green
Golf Academy
Pro-Shop
Restaurant and Bar (Club House)


Buggies
Trolleys: Manual and Electric
Golf Clubs
Golf Lessons
Golf Course Map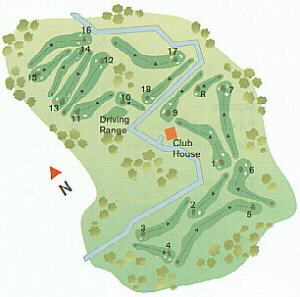 Scorecard