Penina Golf Course

Golf Course Description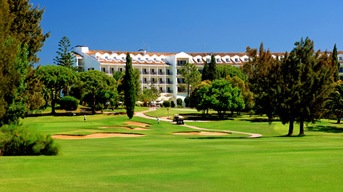 The Penina golf course created by Henry Cotton, is now a monument to his memory.

Penina was the first course to be built in the Algarve and it was inaugurated by the President of the Republic in 1966. The area used to be a rice-field and it is now surrounded by tall, wide-trunked, trees.

Cotton used the drainage ditches of the rice-field to define fairways in some places, and hazards in others. He enlarged them at strategic places modifying their banks by raising them and concealing the water hazards from the less cautious golfers. More than 360,000 trees were planted, dividing fairways, defining greens, giving a different character to each hole.

In front of the hotel, a new nine hole course called Resort course (ex - Monchique) was created later on, to satisfy the needs of more and more clients and to allow for maintenance on the main course. A small layout with very short holes for beginners, the Academia course (ex - Quinta), was also built, among the fairways of the Championship course. The extensive driving-range is very well managed and there is also a huge putting-green with an area of about 1000 square metres, making Penina a superior quality practice centre.

The par of the Penina course is 73 (35+38) with the second nine both beginning and finishing with two consecutive par 5's, which is not usual. The first hole, a 41 l -metre par 4, almost long enough to be a conventional 5, is rather difficult and has a green which is more than 35 metres long, requiring careful choice of the approach iron to be played. To close the first nine there is another hole over 400 metres long with a dogleg to the left and also a long double tiered green, well defended by three bunkers. The l3th hole, a 208-metre par 3 lies alongside a lake, with a bunker defending the right of the green, and is one of Penina's challenging holes.

[In O Golfe em Portugal - Fernando Nunes Pedro - Texto Editora-Andersen Consulting] 
Golf Course Ratings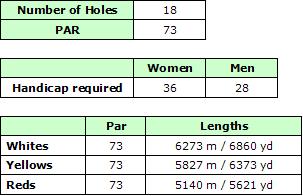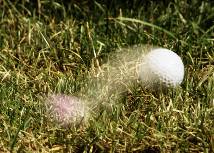 Facilities
This golf course facilities include:

Driving Range
Putting Green
Golf Academy
Pro-Shop
Restaurant and Bar (Club House)


Buggies
Trolleys: Manual and Electric
Golf Clubs
Golf Lessons
Golf Course Map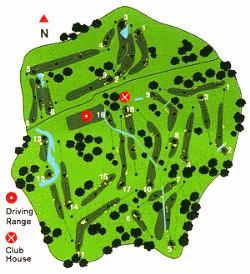 Scorecard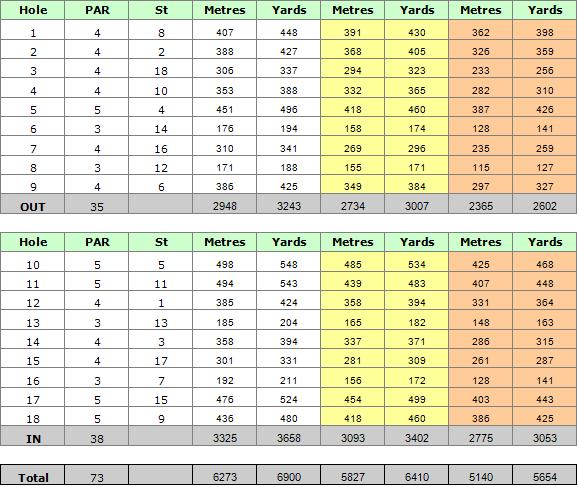 ---