Tavira Map

Location
Tavira Map, the town is located in the Eastern Algarve, where the history is better preserved, far from the most touristic places. The town is surrounded by the hills of caldeirão mountains from one side to the desert beaches in the Natural Park of Ria Formosa.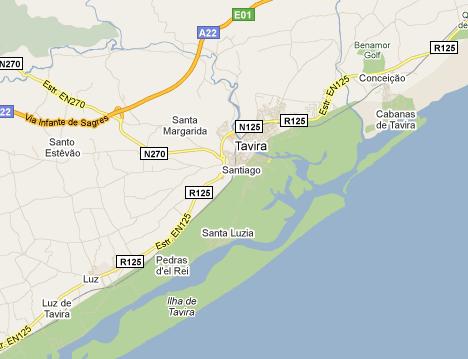 Surroundings
After visiting Tavira you can also visit some of the small villages near this town.
Conceição is located to the east and has a beautiful church of 16th century. From Conceição to the sea you have the Cabanas, a small fishermen village.

The village of Luz of Tavira, to west of Tavira, also has a church of 16th century and also deserves a visit. 
Accessibility

The EN125 road crosses the town of Tavira and the other near villages Luz e Conceição, so it is very easy to get there. If you come from a more distant place in Algarve you have the A22, via do Infante, which has an direct access to the town of Tavira by the N270 road.