Algarve Villas
Aldeamento Turistico da Prainha
Description

Aldeamento Turistico da Prainha is a resort located in a superb location, in front of a beautiful beach, with private access. In a top-cliff, you have beautiful views of the blue Atlantic Ocean and the surrounding coast.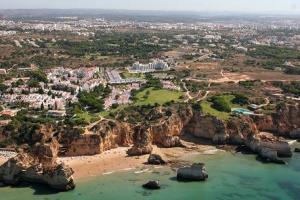 Due to this fantastic location and the available facilities, including for children, this resort is a good choice for holidays in family. In addition to this, if you are a golf player, you will find some of the most interesting golf courses near to this the resort.
You and your family will have perfect relaxed holidays in this resort, regardless of what your preferences are. 
Accommodation
This resort has several typologies of accommodations. It ranges from the smallest, the apartment T1 with capacity for 3 persons, to the biggest, the villa V4 with the capacity for 10 persons.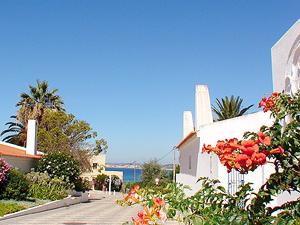 All accommodations have a full equipped kitchen or kitchenette (T1), Balcony, terrace or patio, Cable TV and Safe. 
Facilities

2 Outdoor Seawater Swimming Pools, 5 Restaurants, a Children Park and a Health Club.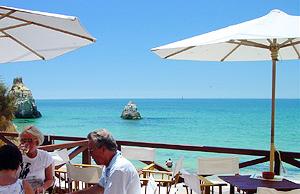 You have several facilities depending of what your preferences are.
Tennis Court, Sauna, Fitness Centre, Golf Course, Spa & Wellness Centre, Massage, Children's Playground, Jacuzzi, Hiking, Turkish/Steam Bath, Hammam, Indoor Swimming Pool, Outdoor Swimming Pool. 
Activities
This resort is the perfect option for having relaxed and calm holidays. You have the Marine Treatment Thalgo-Centre, where you can have beauty, health and well-being treatments. The beautiful designed swimming pool on the cliff over the beach is a fantastic place to relax, as it is the beach with its rocks perfectly planted in an unique way, forming a fantastic real picture.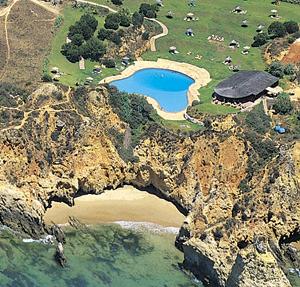 Yet, you can alternate these moments of relaxation with activities like golfing, in golf courses near the resort like Penina or playing tennis. Your family will love it.